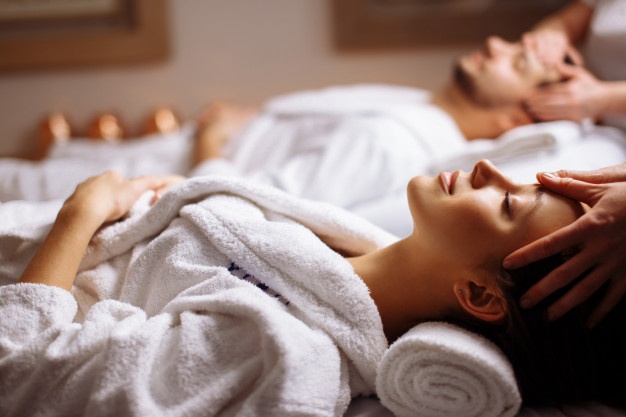 An indulgence for two designed to transcend you into deep relaxation and renew your love for one another. Treat yourself and a companion to the ultimate in relaxation as you indulge in a dual massage in the comfort of our private couples suite designed for two. Treatments are customized for each individual. Create a luxe experience for you and a friend, significant other or anyone special in your life.
We encourage you to arrive 30 minutes early for your appointments to allow time to relax in our complimentary infrared dry sauna.
JAPANESE MASSAGE PAGODA beyond the glass doors of the Village Spa an elevated spa experience like no other awaits you. Nestled within our hidden bamboo forest you'll find our Japanese Massage Pagoda. It's the perfect place to transcend you and your loved one to become one with nature.
Add-on for 2 people $140
INDULGENCE FOR TWO
$320
30 min Swedish Massage +
Facial a la Carte
total treatment time
110 mins

COUPLE'S JOURNEY
$560
60 min Therapeutic of Warm Jade Stone Massage + Multi Vitamin Hydrating Facial
total treatment time
150 mins
60 min Therapeutic of Warm Jade Stone Massage + Multi Vitamin Hydrating Facial $570 (total treatment time 150 mins)
MASSAGE ENHANCEMENTS
customize your Village Spa treatment.

$15 Aromatherapy is a holistic healing treatment that uses natural
aromatic plant extracts to promote health and well-being.

$30 Foot Massage can be used as pain relief, to help alleviate stress and even to speed up injury recovery

$30 CBD The anti-inflammatory and pain relieving agents of CBD
reduces inflammation within muscles and joints, allowing the
massage therapist to work more effectively.

$30 Dry Brushing is a popular therapeutic service that consists of strokes to provide exfoliation and a rejuvenating boost of energy!

$65 Detox Cupping invigorates local circulation and blood in the area being treated, resolving swelling, pain, and tension.

$75 Body Polish is a spa treatment which exfoliates the skin on your body leaving it feeling fresh, smooth, moisturized and soft.